Chapter 4

Analysis
4.1

National Overview

In addition to the 10 focal states selected by Pew for this report, we ran the same metrics for all coastal states from the contiguous United States and the District of Columbia (Figure 4.1, Figure 4.2). In the context of all contiguous coastal U.S. states Massachusetts consistently ranked in the upper quartile of all metrics. Oregon, Louisiana, Washington, Delaware and California all ranked highly across multiple metrics. Regarding Oregon, it is important to understand that the area of seagrasses versus kelp beds could not be separated in the underlying mapping product and kelp beds can be extensive in this region. We consider the states of Massachusetts and Oregon to be our highest tier (tier 1).

The second tier of states are LA, WA, DE, and CA (total scores just below "best") which scored well but can improve in one or two categories. LA scores well in spatial representativeness due to the CRMS network that dominates the database and was explicitly designed as a state-wide, spatially explicit sampling strategy. Despite this LA has fewer cores per 1,000 ha of wetlands because of the large area of tidal wetlands in the Mississippi River delta. The high score for LA means that the largest fraction of Blue Carbon ecosystems in CONUS – those of Mississippi River Delta – have some of the best soil carbon data available in the U.S. TX and AL are squarely in our second tier of states (i.e. total scores better than fair but below tier 1), leaving MS as the only Gulf coast state needing significant improvement in Blue Carbon data.

The third tier of states are FL, NJ, TX, NY, AL, SC, MD, and CT with total metric scores better than fair. The fourth tier of states are GA, NC and NH with total scores of fair, and the fifth tier are states with total scores below fair (RI, MS, VA, ME, PA and DC). PA and DC have mapped tidal wetlands, but do not have any soils data in our library, and it is not known if any data collection efforts are slated for entry (Figure 4.3).

Of the Atlantic coast states only DE was represented in the second-tier states because of the active contributions made by Brandon Boyd (US Army Corps of Engineers) and Kari St. Laurent (Delaware National Estuarine Research Reserve). Though DE holds a small proportion of CONUS coastal area, it is well-positioned in terms of data for Blue Carbon activities. CT, FL, SC, NJ, and NY on the Atlantic coast fell into our third tier. Other than MS, all of the states that fell into our lowest tier are on the Atlantic coast.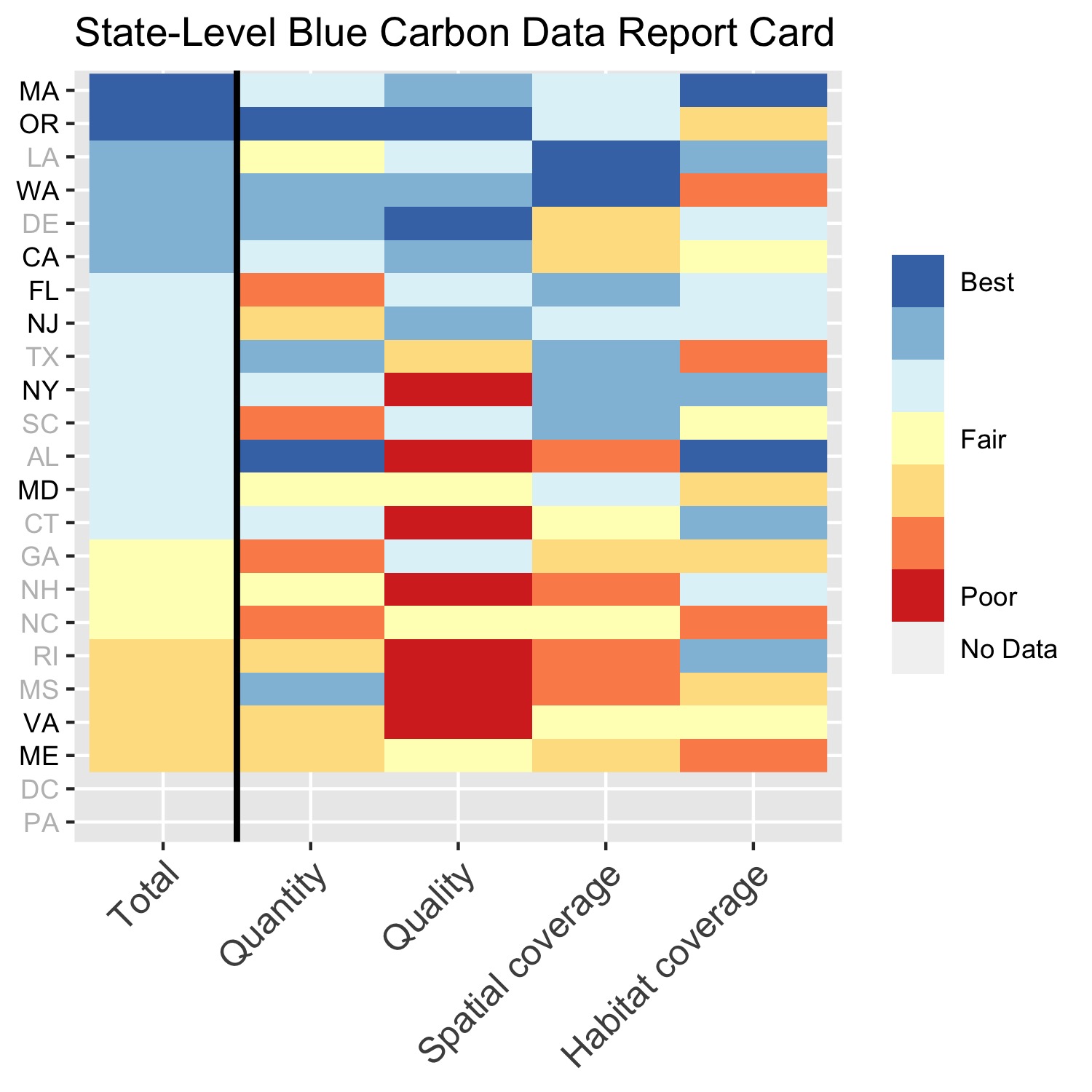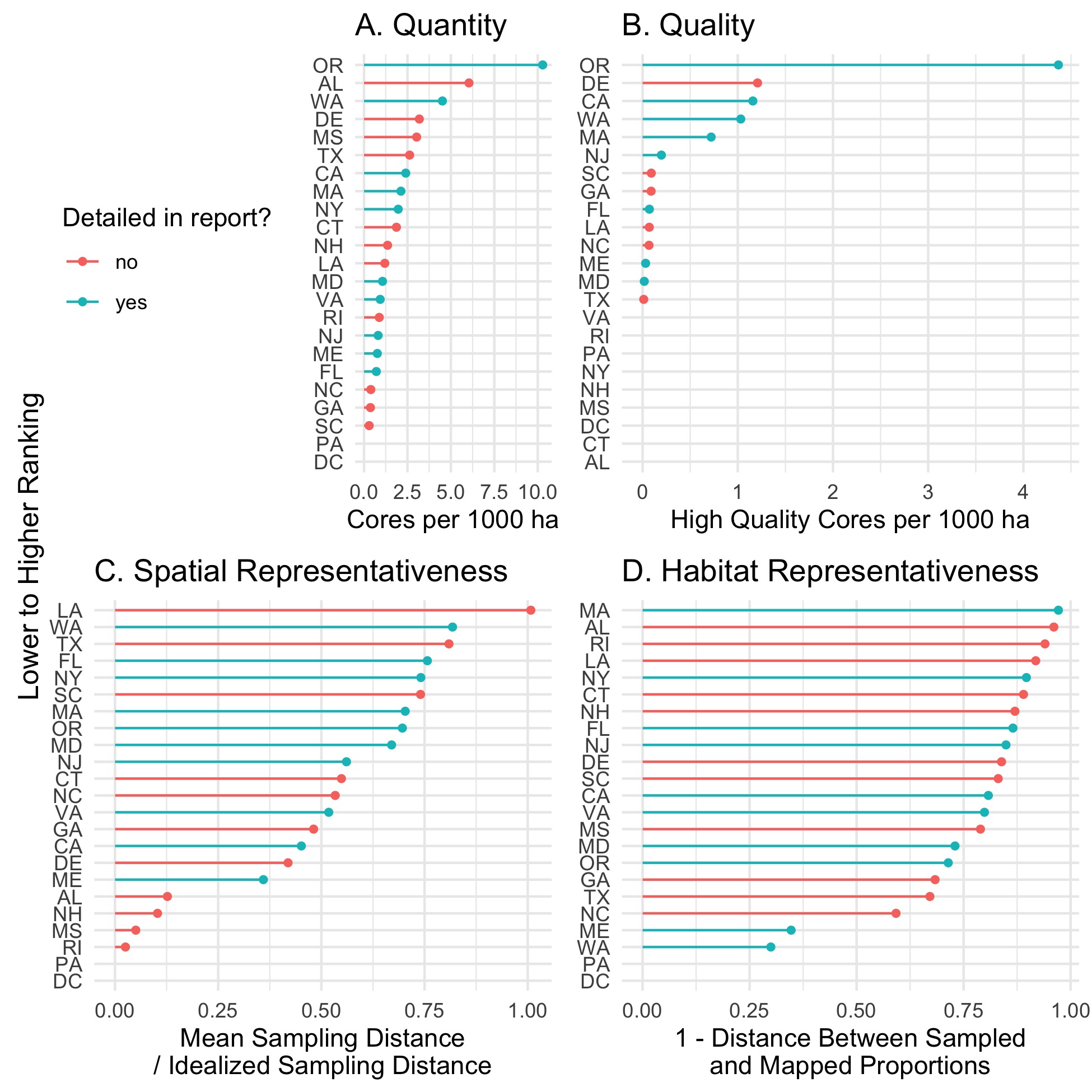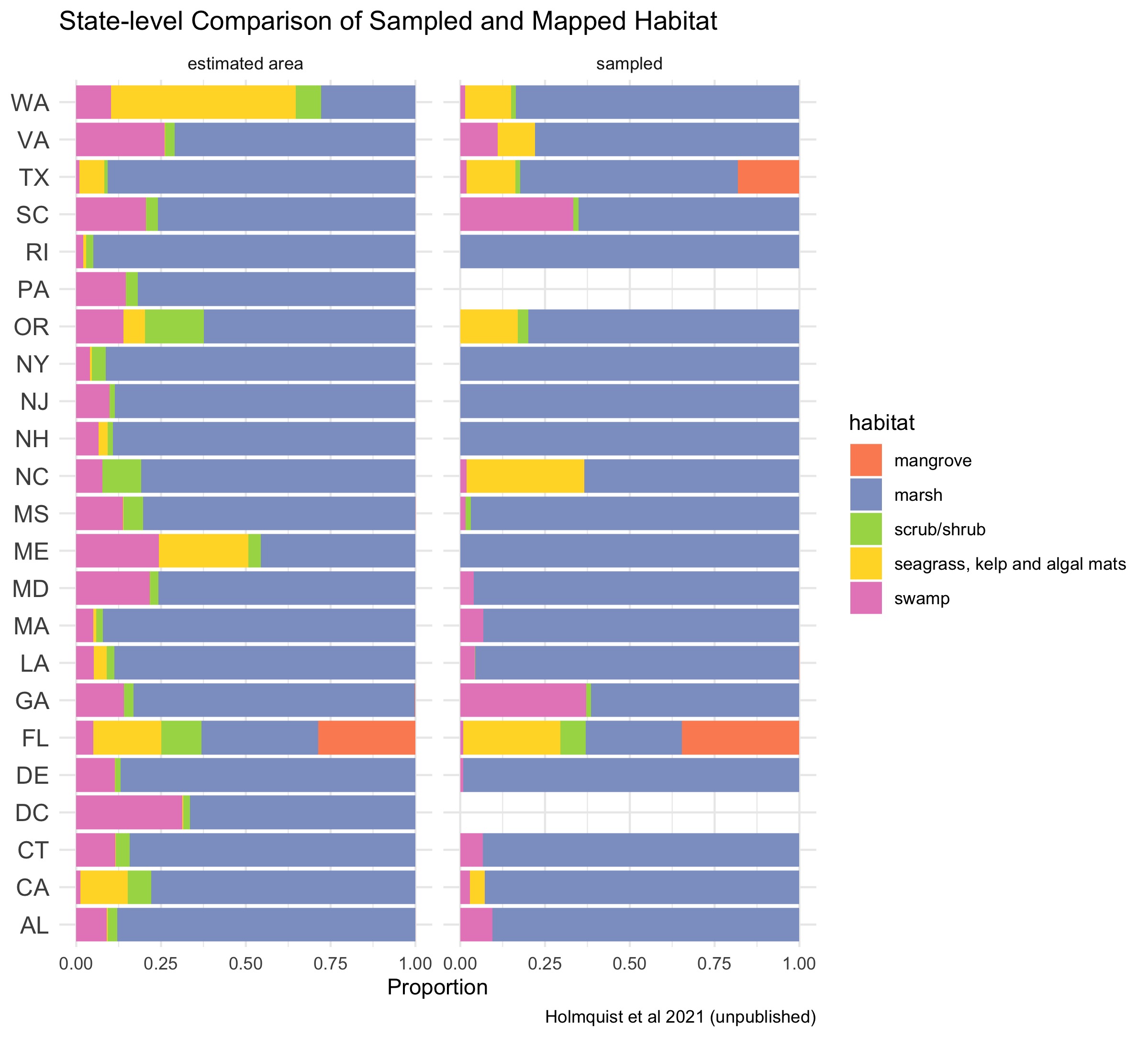 4.2

Overview of Blue Carbon Data in Pew-Selected States

Pew identified a subset of states with attributes that make them potentially attractive for climate mitigation projects in Blue Carbon ecosystems, namely California, Florida, Maine, Maryland, Massachusetts, New Jersey, New York, Oregon, Virginia, and Washington. We developed four new metrics that synthesize key features of the Coastal Carbon Atlas and are broadly relevant to management activities. Data quantity is the number of soil profiles available in the Atlas per 1,000 hectares of Blue Carbon habitat; data quality captures amount of data available for advanced use cases ranging from full profile carbon stock inventorying to carbon sequestration modeling (also expressed relative to Blue Carbon habitat area); spatial representativeness considers whether the observations are well distributed across the coastal geography of the state; and habitat representativeness does the same for habitat types found in a given state. The average of these provided a composite score.
4.3

California State Report
4.6

Maryland State Report
4.7

Massachusetts State Report
4.8

New Jersey State Report
4.9

New York State Report
4.11

Virginia State Report
4.12

Washington State Report
4.13

Local Scale Mapping Improvements
4.13.1

Status of Seagrass Mapping

The national scale maps used for our habitat area estimates do not map seagrasses specifically, but instead lump together seagrasses, algal mats, and kelp beds under a single Estuarine Aquatic Bed classification. For this reason, we provide some insights on states where there is are more detailed seagrass mapping programs.

We reached out to Jon Lefcheck of SERC for his understanding of the current state of seagrass maps for the United States. The most comprehensive seagrass map on a US national-scale is NOAA's Marine Cadastre, which is a resource that was jointly developed by NOAA and BOEM to support renewable energy projects and other marine-related initiatives. One of many layers in Marine Cadastre is seagrass. Data on the presence and location of seagrasses was compiled from many state and local sources. However, the sources are not well documented at present because the map is not linked to the data sources and the sources are not linked to the raw data as in the Coastal Carbon Atlas. Marine Cadastre also appears to lack an evaluation of data quality.

Marine Cadastre is updated every two years, with the seagrass layer being last updated in March 2020. However, it does not have two notable regional seagrass mapping efforts in progress. One is a seagrass map of Florida by Luis Lizcano-Sandoval, a graduate student at the University of South Florida. The other effort is from the Chesapeake Bay Submerged Aquatic Vegetation mapping program which is current through 2020.

There is interest in improving seagrass maps. Presently Jon Lefcheck is discussing with Marine Cadastre the possibility of building a comprehensive registry for seagrass maps modeled on National Wetlands Inventory maps. Jon and Luis Lizcano-Sandoval are considering applying his methods (based on machine learning of remotely sensed data) to Puerto Rico as part of a NOAA-led seagrass monitoring program in summer 2021. Finally, Jon is collaborating with Jim Fourqurean at Florida International University on an effort to collate all seagrass datasets for an international synthesis effort. There is a dedicated post-doc in Jim's lab to advance that project. Jon is presently collaborating with Pew on the National Coordination Alliance for SAV Enhancement (Aaron Kornbluth) and on Pew international programs related to seagrass ecosystems (Stacy Baez and Katelyn Theuerkauf).
4.13.2

Local Improvements in Former Wetland Mapping

Other locally specific products include a west coast map by Brophy et al. (2019) which has some improved functionality for mapping eroded wetlands, and some regional datasets which have alternative methods for mapping impoundments. Our mapping products do a very similar layer of wetland, tidal elevation, and land cover change mapping with a few minor methodological differences at the national level. Our products do not integrate maps of historical wetlands coverage based on detailed shoreline surveys starting in the 1840's. This improvement is only available for CA, WA, and OR.
4.13.3

Local Impoundment Datasets

There is one additional local dataset for mapping impoundments that we are aware of, which is the Maine Tidal Restriction Atlas. It has detailed information, but is point based, meaning it does not map the upstream hydrology or account for areas of wetlands affected by impoundments.
References